Description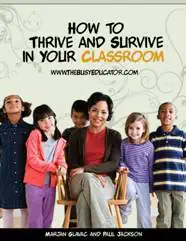 Did you know that half of all new teachers quit within 5 years? You don't have to be one of them. You can find out today how to create your ideal classroom, motivate your students, maintain their attention and keep them on task without screaming, pleading or burning yourself out.
Marjan Glavac went from a teacher who wanted to quit to an award-winning teacher just ten years later. In "How to Thrive and Survive in Your Classroom", Marjan shares his secrets for creating your ideal classroom so you can be an ideal teacher!
Become a more effective teacher. Save time and energy.
Download today to get started!